outstanding business student
Jonathan Chen
Double-major: Finance & Management and Human Resources 
Graduation: May 2022 
Hometown: Tacoma, WA
Activities: Eberhardt Student Investment Fund, Integrated Development Group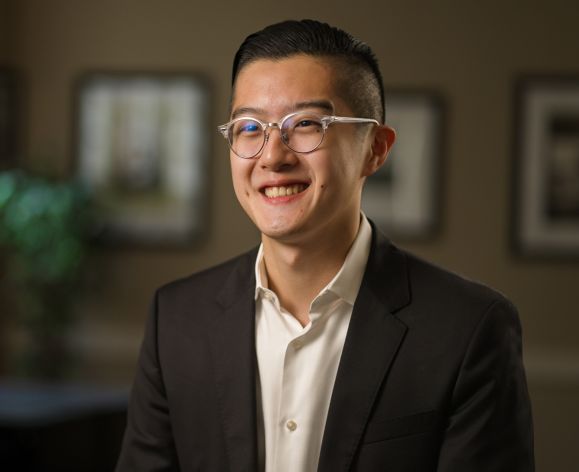 Q: How did you get interested in business management? 
Jonathan: That happened after I got a job on campus as an intramural sports referee with Pacific Rec. It was about talking to people and dealing with human problems. I was pretty good at solving problems for different people, especially conflicts, so I changed my major to management and HR. Then, when I realized I had enough units to add another concentration, I added finance. That was also because of my other on-campus job at Treasury Investment. One of my first tasks was to do a presentation, and I saw the numbers grow and I wanted to be able to do that.
Q: What is the Student Investment Fund? 
Jonathan: It's a $4 million of actual money, student-run investment fund. As a student you will get access to using the Bloomberg terminals that the school pays for. It's quite an amazing tool, especially if you're interested in going into the financial field because that's what big banks use to gather all the information.  
Students gain experiences on how to do research and what to look for, but also public speaking skills. You have to present your research to convince other students why this is a good stock to buy. 
Q: How did you get involved in SIF and what did you get from that experience? 
Jonathan: When I first toured the Pacific campus, I saw the SIF trading room and the little ticker going around, I thought that was cool and as a freshman my goal was to get in. 
I actually got more in-depth knowledge on what is impacting the company doing well or not, and what to look for in an investment — like different ratios and also doing the fundamental research from top down. You're looking at the economy in general and then going to different specific sectors, and then down another level into your industry and then your company level. 
Q: How does SIF set Pacific's business program apart from other business schools? 
Jonathan:  Only 2% of business schools globally offer the same learning opportunity. It sets you apart when you're graduating or entering the job market. It really sets you apart, because it builds up your public speaking skills and builds up your confidence. 
Q: Working with such big numbers must be intimidating. How did you overcome it? 
Jonathan: When I first got in, and I saw the report templates and all that of course, my first reaction was, "Am I really going to survive? Is this really happening?" Because I had only taken one intro level finance class at that time. But it's definitely about how motivated you are or how much passion you have toward this, specifically the finance. 
In the simplest term, what you put in, is what you get out, my professor told me. You can have a proven system to be successful, but if you put in garbage, you will get garbage out. If you're putting good stuff in, you're going to get good results out. So, that's what I got out of it. The company I recommended over last semester, since we purchased it in April, I think we got a 34% return. 
Q: What is special about being a student at Pacific? 
Jonathan: I'll say fantastic faculty-to-student ratio. I can actually have personal conversations with my professors who know me. That's one of the best experiences I've had. I can actually sit down and have a cup of coffee with my professor or my teacher and talk about what's going on. I feel like that is amazing at Pacific.  
Also, we are a smaller school and there are opportunities you can take to make yourself stand out in a crowd. But how you approach that — take those opportunities in your hands — is important. For me if I see an opportunity, I'm going to take it. 
Q: What advice would you give to students who are coming to Pacific? 
Jonathan: Be open minded and explore different academic paths because you're not going to school for anyone else, this is your education, it's in your hands. And get involved in Student Investment Fund. We're open to all majors and we only have a prerequisite for business students.