Your career success is our first priority.
The Eberhardt School of Business ensures your career success by embedding the Career Management Center within the school. One of our key functions is facilitating connections between students and employers. We also provide critical career services tailored to your needs in a professional school.
Our services are tailored to your needs in preparing for entry into the business world, whether you are seeking an internship, your first entry-level position, or advancing your career as a graduate student. 
One-on-one career coaching to help you clarify your goals and action plans to achieve your desired career outcomes
Guidance in developing resumes and cover letters that get results
Job search strategy and tactical advice to help you navigate the process in a competitive environment
Interview skills training and preparation through workshops, mock interviews with employer/alumni volunteers, and strategy sessions with CMC staff
Help with articulating and promoting your professional brand through direct and social media networking (emphasis on optimizing your LinkedIn profile)
Assistance in making meaningful connections with alumni and employers to expand your professional network
Facilitating on-campus recruitment opportunities to put you directly in touch with recruiters through company presentations, on-campus interviews, and career fairs
Support in executing your internship and post-graduation job search efforts - when you hit an unexpected obstacle we'll help you figure out how to overcome those challenges
Help in evaluating job offers, the negotiations process, and the decision analysis to support your choice of the best opportunity for you
Pacific students also have access to the Career Resource Center which offers a wide array of services and resources to support student career development and success.
Success After Pacific
Amy Moore
Amy Moore '12 BUS '14 EDU thrives in a competitive environment. The pressure to perform at a high level is familiar territory for Amy. Softball lured her to Pacific where she played an integral role as catcher. Amy didn't hang up her cleats immediately after college, as she was recruited to represent England on the country's national softball team, spending several summers in Europe competing for a chance to go to the Olympics. We recently sat down for a virtual chat to catch up on her success with Cintas Corporation as she continues to capture wins in her professional sales journey. 
Career Outcomes
Launch a successful career with the help of our dedicated staff of career management professionals and resources exclusive to business students and alumni.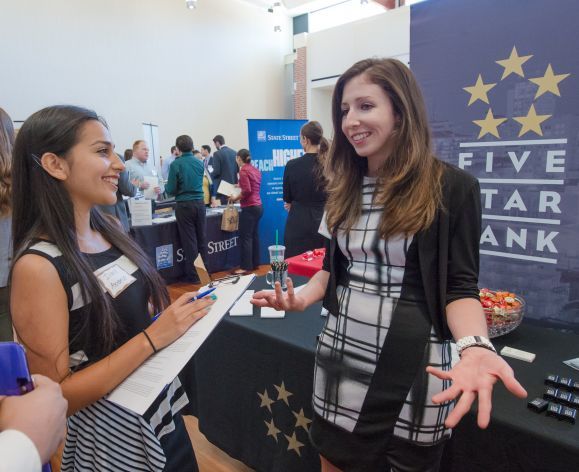 Become an Employer Partner
The Eberhardt Career Management Center can help you to identify and recruit talent for your organization. Let us help you make the most of your investment in recruiting here at the Eberhardt School of Business. We will work with you to design a tailored recruiting plan to attract more of the students you are targeting, maximize your campus visits and help you to achieve your recruiting goals.
We help Eberhardt students prepare for the professional world, and support companies in reaching their recruiting goals for business graduates from Pacific. The features that attract a student to the Eberhardt School of Business often mirror the features they seek in an employer. Our students seek to engage with companies who value their employees, don't treat them like a number, and appreciate the energy and innovation that college students and new graduates bring to the market.
While we are working with the most wired and technologically savvy generation of students and new college grads, this is a generation that has a critical eye and high career aspirations. Decisions about careers and companies are no longer being decided on a whim but only after much research, discussion and thoughtful consideration. Most importantly, today's students are looking for a great fit with an organization - not just a good fit!
Please contact Deborah Crane for more information on becoming an employer partner.
Eberhardt Career Management Center
Employer Sponsors
The companies featured below are recognized as CMC Partners and supporters for the 2022-23 academic year. These employers have provided generous support that enables the CMC to provide exceptional service and resources to our students.
Executive Sponsor:
Five Star Bank
 
Director Sponsors:
Becker Review
Bowman & Company, LLP
Delicato Family Wines
F&M Bank
MUN CPA's LLP
Travelers
Employer Partner
The Clorox Company
"I began recruiting at the Eberhardt School of Business in 2006, and since that time, The Clorox Company has hired more than 20 undergrads and MBAs into its Finance organization. Our retention success with these hires is very high, in fact, our first Pacific recruits are now senior managers who champion the on-campus recruiting efforts for us. Pacific graduates are extremely well regarded within Clorox's Finance organization."
– David Green, '82, Vice President, Tax at The Clorox Company
Contact Us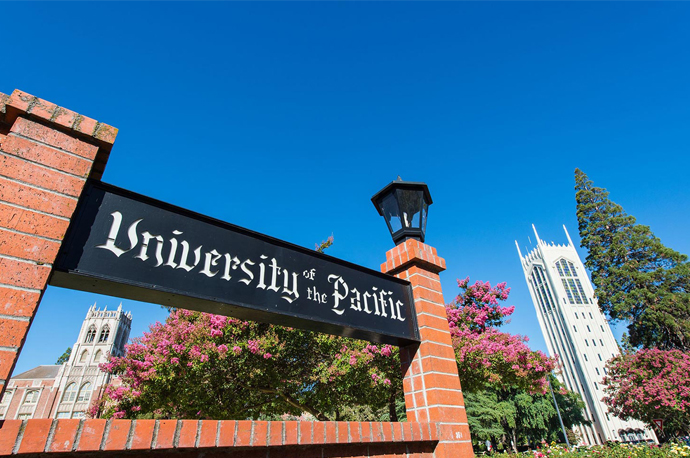 Eberhardt School of Business
209.946.7710
3601 Pacific Ave.
Stockton, CA 95211