October 28, 2022 01:00 pm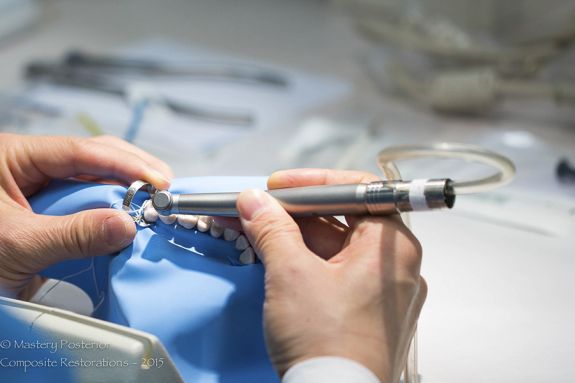 Hands-on Course
4 Modules:  Friday – Sunday
October 28 – 30, 2022
December 2 – 4, 2022 
January 27 – 29, 2023
March 3 – 5, 2023
This four-module, 80-hour workshop features numerous topics and intensive training in the broad realm of restorative dentistry, aimed at taking you and your practice to the next level. Each weekend module will focus on a different area of restorative dentistry and will include lecture, lab and hands-on training. Regardless of the stage of your dental career, a seasoned practitioner or a recent graduate, you will benefit from this Advanced Restorative Continuum.
This expanded and redesigned program at the Dugoni School of Dentistry is the only comprehensive, four-module continuum offered by Drs. Stevenson and Lopez in the nation. 
Module I: Posterior Composite Restorations | October 28 – 30, 2022
This module will cover the latest advancements in the broad realm of posterior composite restorations. It is designed to provide the clinician with a deep understanding of the entire restorative process from materials science and adhesion to the placement and adjustment of the finest composite restorations possible. The importance of isolation and techniques to simplify this important step will be practiced. Knowing when to perform pulp capping and what materials to select are critical to overall success and patient satisfaction. Understanding how to mitigate polymerization shrinkage via 3D layering can be efficient and fun to do. Contouring, finishing and polishing the final restoration with occlusion and longevity in mind will ensure better results. 
Module II: Anterior Composite Restorations | December 2 – 4, 2022
In this module, the focus will be on anterior composite restorations. The course is designed to provide you with a deep understanding of shade selection, preparation design, layering and polishing techniques to provide excellent anterior composite restorations. Function/dynamic occlusion plays an important role as well as shade matching and contouring in this challenging arena of direct restorations. You will learn the most effective methods to close diastema, restore the fractured incisor and complete chairside veneers with seamless restorations in the aesthetic zone. Using advanced layering techniques is not just limited to artistic geniuses—you can accomplish amazing results with just a few important techniques.
Module III: Posterior Ceramic Restorations | January 27 – 29, 2023
A comprehensive review of posterior ceramic restorations will be covered in Module III. Dr. Stevenson will stress the adherence of proven, well-documented techniques based on clinical studies, and will take you through numerous scenarios of preparation design, temporization techniques and cementation. Learning how to incorporate the biomimetic approach to conserve tooth structure is an integral part of this session.
Module IV: Anterior Ceramic Restorations | March 3 – 5, 2023
During the final module, Dr. Stevenson will review the latest advancements in anterior ceramic veneers, crowns, partial coverage crowneers and vonlay restorations. The course has been designed to provide you with a deep understanding of the entire restorative process from materials science and adhesion to the placement and adjustment of the finest anterior ceramic veneer restorations possible. Dynamic occlusion plays an important role as well as aesthetics in this challenging arena of indirect restorations. A decision tree for which material to use in each case will be presented which will improve your understanding and execution of both monolithic and bi-layered restorations of lithium disilicate, zirconia and feldspathic ceramics. 
You Will Learn
How to replicate form, function and aesthetics in both direct and indirect restorative materials
To utilize adhesive materials in order to increase retention and longevity with minimal complications
To assess and diagnose occlusion, and make appropriate alterations to restorations to maintain/improve occlusal stability
How to approach complex restorative cases with a risk-based diagnostic and treatment planning algorithm that simplifies the process
How to implement Digital Smile Design in your practice workflow
Predictable techniques to close diastema, restore large Class IV defects and veneer anterior teeth with seamless composite restorations
To create exceptional ceramic veneers which resist chipping and staining over time
To integrate the right material for the right case depending on biological, structural, regional and financial aspects
Who Should Attend
This workshop is designed for general dentists seeking advanced training in restorative techniques.
Early Bird Tuition: $7,995 (for registrations received by September 28)    
Regular Tuition: $8,495
Program: 1:00 pm – 5:00 pm Fridays; 8:00 am – 5:00 pm Saturdays and Sundays
Location: Arthur A. Dugoni School of Dentistry, 155 Fifth Street, SF      
Credits: This activity is designated for 80 units of continuing education credit.
Program is limited to 24 attendees; includes afternoon coffee/tea service on Fridays and continental breakfast and lunch on Saturdays and Sundays.
Faculty
Richard G. Stevenson III, DDS, earned his DDS degree and AEGD certificate from UCLA School of Dentistry and obtained board certification from the American Board of Operative Dentistry. He has served as a mentor for the Richard V. Tucker Study Club and taught at both the predoctoral and postdoctoral levels at UCLA. He garnered Teacher of the Year awards from numerous classes at UCLA, including the prestigious ADA Golden Apple Award for Teaching. He is a graduate of the Kois Center and has served as a CE faculty member for UCLA's Aesthetic and Implant Continuums. He maintains multidisciplinary practices in West Los Angeles and San Dimas. After a 26-year academic career, he started Stevenson Dental Solutions in 2015 to fill the gap between traditional education and real-world clinical dentistry for practicing dentists.
Cristina D. Lopez, DMD,  is a 1991 graduate of the University of the East. After practicing general dentistry in the Philippines, she immigrated to the United States and obtained her dental license. She began as a lecturer in restorative dentistry at UCLA School of Dentistry in 2007, where she has served in several roles, including assistant to the chair in both the fixed prosthodontics and operative dentistry courses. She has given presentations throughout the U.S. and Asia in the areas of cast gold, veneers and dental materials. She is a member of the Los Angeles Advanced Restorative Study Club  and has taught with Dr. Stevenson since 2008.
"This very comprehensive restorative course provided me with a wealth of information that I could utilize the next day in my practice. Dr. Stevenson is a master. If you want to up your game, this is the course for you."  —Stephanie Jee, DDS
Cost:
Early Bird Tuition: $7,995 (for registrations received by September 28); Regular Tuition: $8,495
Add to Calendar
2022-10-28 13:00:00
2022-10-02 21:24:28
Advanced Restorative Continuum: Intensive Hands-On Training
Hands-on Course 4 Modules:  Friday – Sunday October 28 – 30, 2022 December 2 – 4, 2022  January 27 – 29, 2023 March 3 – 5, 2023 This four-module, 80-hour workshop features numerous topics and intensive training in the broad realm of restorative dentistry, aimed at taking you and your practice to the next level. Each weekend module will focus on a different area of restorative dentistry and will include lecture, lab and hands-on training. Regardless of the stage of your dental career, a seasoned practitioner or a recent graduate, you will benefit from this Advanced Restorative Continuum. This expanded and redesigned program at the Dugoni School of Dentistry is the only comprehensive, four-module continuum offered by Drs. Stevenson and Lopez in the nation.  Module I: Posterior Composite Restorations | October 28 – 30, 2022 This module will cover the latest advancements in the broad realm of posterior composite restorations. It is designed to provide the clinician with a deep understanding of the entire restorative process from materials science and adhesion to the placement and adjustment of the finest composite restorations possible. The importance of isolation and techniques to simplify this important step will be practiced. Knowing when to perform pulp capping and what materials to select are critical to overall success and patient satisfaction. Understanding how to mitigate polymerization shrinkage via 3D layering can be efficient and fun to do. Contouring, finishing and polishing the final restoration with occlusion and longevity in mind will ensure better results.  Module II: Anterior Composite Restorations | December 2 – 4, 2022 In this module, the focus will be on anterior composite restorations. The course is designed to provide you with a deep understanding of shade selection, preparation design, layering and polishing techniques to provide excellent anterior composite restorations. Function/dynamic occlusion plays an important role as well as shade matching and contouring in this challenging arena of direct restorations. You will learn the most effective methods to close diastema, restore the fractured incisor and complete chairside veneers with seamless restorations in the aesthetic zone. Using advanced layering techniques is not just limited to artistic geniuses—you can accomplish amazing results with just a few important techniques. Module III: Posterior Ceramic Restorations | January 27 – 29, 2023 A comprehensive review of posterior ceramic restorations will be covered in Module III. Dr. Stevenson will stress the adherence of proven, well-documented techniques based on clinical studies, and will take you through numerous scenarios of preparation design, temporization techniques and cementation. Learning how to incorporate the biomimetic approach to conserve tooth structure is an integral part of this session. Module IV: Anterior Ceramic Restorations | March 3 – 5, 2023 During the final module, Dr. Stevenson will review the latest advancements in anterior ceramic veneers, crowns, partial coverage crowneers and vonlay restorations. The course has been designed to provide you with a deep understanding of the entire restorative process from materials science and adhesion to the placement and adjustment of the finest anterior ceramic veneer restorations possible. Dynamic occlusion plays an important role as well as aesthetics in this challenging arena of indirect restorations. A decision tree for which material to use in each case will be presented which will improve your understanding and execution of both monolithic and bi-layered restorations of lithium disilicate, zirconia and feldspathic ceramics.  You Will Learn How to replicate form, function and aesthetics in both direct and indirect restorative materials To utilize adhesive materials in order to increase retention and longevity with minimal complications To assess and diagnose occlusion, and make appropriate alterations to restorations to maintain/improve occlusal stability How to approach complex restorative cases with a risk-based diagnostic and treatment planning algorithm that simplifies the process How to implement Digital Smile Design in your practice workflow Predictable techniques to close diastema, restore large Class IV defects and veneer anterior teeth with seamless composite restorations To create exceptional ceramic veneers which resist chipping and staining over time To integrate the right material for the right case depending on biological, structural, regional and financial aspects   Who Should Attend This workshop is designed for general dentists seeking advanced training in restorative techniques. Early Bird Tuition: $7,995 (for registrations received by September 28)    Regular Tuition: $8,495Program: 1:00 pm – 5:00 pm Fridays; 8:00 am – 5:00 pm Saturdays and SundaysLocation: Arthur A. Dugoni School of Dentistry, 155 Fifth Street, SF      Credits: This activity is designated for 80 units of continuing education credit. Program is limited to 24 attendees; includes afternoon coffee/tea service on Fridays and continental breakfast and lunch on Saturdays and Sundays. Faculty Richard G. Stevenson III, DDS, earned his DDS degree and AEGD certificate from UCLA School of Dentistry and obtained board certification from the American Board of Operative Dentistry. He has served as a mentor for the Richard V. Tucker Study Club and taught at both the predoctoral and postdoctoral levels at UCLA. He garnered Teacher of the Year awards from numerous classes at UCLA, including the prestigious ADA Golden Apple Award for Teaching. He is a graduate of the Kois Center and has served as a CE faculty member for UCLA's Aesthetic and Implant Continuums. He maintains multidisciplinary practices in West Los Angeles and San Dimas. After a 26-year academic career, he started Stevenson Dental Solutions in 2015 to fill the gap between traditional education and real-world clinical dentistry for practicing dentists. Cristina D. Lopez, DMD,  is a 1991 graduate of the University of the East. After practicing general dentistry in the Philippines, she immigrated to the United States and obtained her dental license. She began as a lecturer in restorative dentistry at UCLA School of Dentistry in 2007, where she has served in several roles, including assistant to the chair in both the fixed prosthodontics and operative dentistry courses. She has given presentations throughout the U.S. and Asia in the areas of cast gold, veneers and dental materials. She is a member of the Los Angeles Advanced Restorative Study Club  and has taught with Dr. Stevenson since 2008. "This very comprehensive restorative course provided me with a wealth of information that I could utilize the next day in my practice. Dr. Stevenson is a master. If you want to up your game, this is the course for you."  —Stephanie Jee, DDS
155 5th St, San Francisco, CA 94103, USA
Arthur A Dugoni School of Dentistry
Arthur A Dugoni School of Dentistry
America/Los_Angeles
public
155 5th St, San Francisco, CA 94103, USA
Arthur A Dugoni School of Dentistry