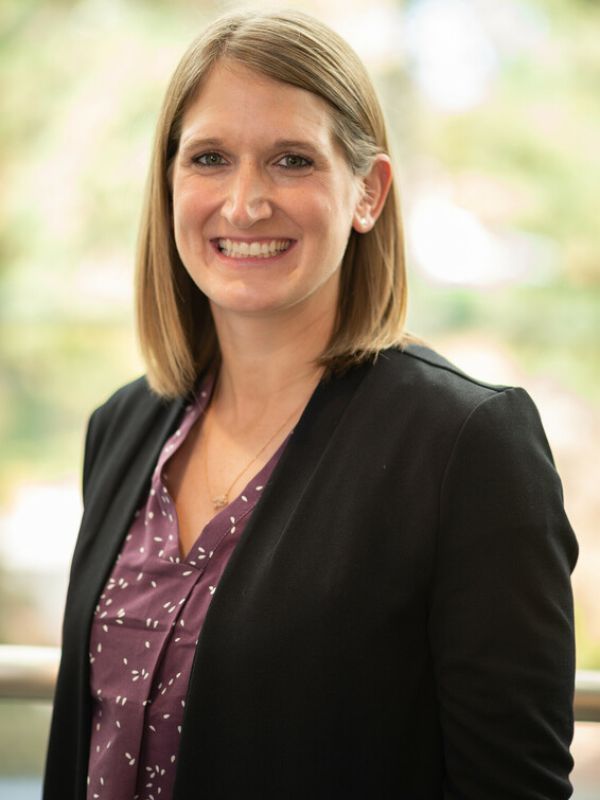 Visiting Part-time Assistant Professor of Sport Management
Office
Weber Hall Suite 201-D
Rebecca M. Achen, Ph.D., earned her bachelor's degree from Southwest Minnesota State University and master's degree from Winona State University. She completed her Ph.D. in sport management at the University of Kansas and has taught courses in sport management for multiple universities. She is an ACSM Certified Personal Trainer, an ACE Certified Group Fitness Instructor, and a Digital Marketing Institute Certified Digital Marketing Professional.
Dr. Achen has years of professional experience in marketing and sales across multiple industries, with a specialty in digital marketing. Her research focuses on the effectiveness of social media as relationship marketing tools in professional sport. She also engages in the Scholarship of Teaching and Learning. 
Education
University of Kansas, PhD
Winona State University, MS
Southwest Minnesota State University, BA
Research Focus
Sattler, L., & Achen, R. M. (2021). A foot in the door: An examination of professional sport internship job announcements. Sport Management Education Journal, 15 (1), 11-19.
Brauman, K., Achen, R. M., & Barnes, J. L. (2021). The five most significant barriers to healthy eating in collegiate student-athletes. Journal of American College Health. https://doi.org/10.1080/07448481.2021.1899186
Achen, R. M. (2020). Use of social media networks and perceptions of firm-generated content in the fitness industry. Journal of Social Media in Society, 9 (2), 47-68.
Brauman, K., Achen, R. M., Barnes, J. L. (2020). Perceived dietary quality and habits of collegiate student-athletes. Journal of Exercise and Nutrition, 3 (3), 1-8. 
Achen, R. M., Kaczorowski, J., Horsmann, T., & Ketzler, A. (2020). Comparing organizational content and fan interaction on Twitter and Facebook in United States professional sport. Managing Sport & Leisure, 25, 358-375. 
Havard, C. T., Achen, R. M., Ryan, T. (2020). Female fans' perceptions of and reactions to rival teams. Journal of Cultural Marketing Strategy, 4 (2) 1-13.  
Achen, R. M. (2019). Re-examining a model for measuring Facebook interaction and relationship quality in professional sport. Sport, Business, and Management: An International Journal, 9, 255-272.
Achen, R. M., Dodd, R. K., & Lumpkin, A. (2019). Servant as leader: The effects of servant leadership on trust, job satisfaction, and turnover intentions in intercollegiate athletics. Servant Leadership: Theory & Practice, 6 (1), 13-36.
Lumpkin, A., & Achen, R. M. (2019). Leadership education: Assessment of learning in a sport leadership course. Journal of Leadership Education, 18 (2), 95-110.
Achen, R. M., Warren, C., Jorich, H., Fazzari, A., & Thorne, K. (2019). Evaluating graduate student out-of-class learning: The professional field trip. International Journal of Teaching and Learning in Higher Education, 31, 96-107.
Vooris, R., & Achen, R. M. (2019). Marketing in the minors: Comparing minor and Major League Baseball teams' use of Facebook. Journal of Sports Media, 14, 23-46.