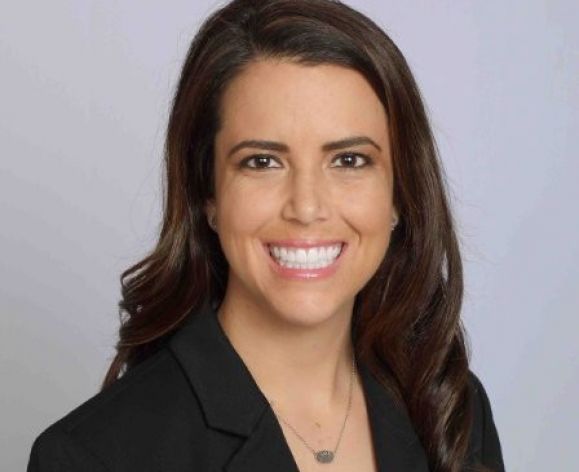 Success After Pacific
Amy Moore
Competing to Win: From the softball diamond to Diamond level Sales Rep
Amy Moore '12 BUS '14 EDU thrives in a competitive environment. The pressure to perform at a high level is familiar territory for Amy. Softball lured her to Pacific where she played an integral role as catcher. Amy didn't hang up her cleats immediately after college, as she was recruited to represent Great Britain on the country's national softball team, spending several summers in Europe competing for a chance to go to the Olympics. And since 2017 she's spent evenings or weekends catching line drive foul balls as a ball girl for the LA Dodgers.
We recently sat down for a virtual chat to catch up on her success with Cintas Corporation as she continues to capture wins in her professional sales journey. From her days as a young softball player selling the most candy to win a prize to her present-day achievements as a member of the Cintas President's Club of top sales reps in the country, Amy has been motivated by incentives. Only five years into her sales career, Amy is performing at the top of her game. We asked her to share some of her secrets for capturing the Diamond Level recognition for the top spot on the Western Region sales leaderboard.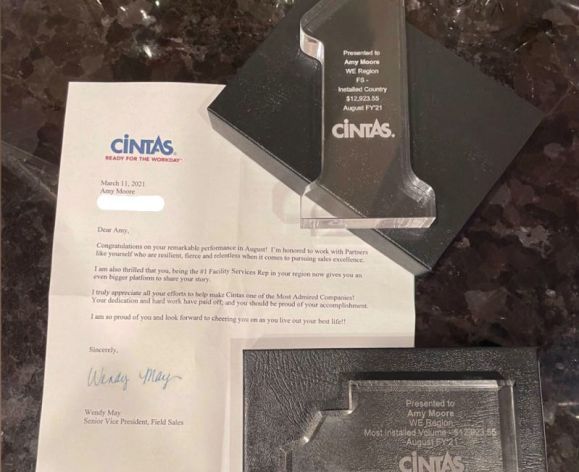 A few of the strengths that fuel Amy's success are a laser focus on customer relationships and consistently delivering the highest level of service.
"I always loved talking with people and I think that's why I do so well in business. I have really good rapport building and I make sure that each customer I come into contact with feels like they're my only customer. There's a part of me that was feeling guilty for being so successful when a lot of people were losing their jobs during the pandemic. I had to put things into perspective because we are providing what our customers really need. We helped keep hospitals open and keep schools safe" by providing products that allowed them to be in compliance with safety protocols.
Amy described the mentorship that she had as a student and athlete at Pacific as key to her success during college. The support she gained through relationships with faculty in the business school and administrators and coaches in Tiger athletics provided Amy with a framework on which to shape herself as a mentor within the Sales organization at Cintas.
"I speak about this with my partners (mentees) at Cintas. I tell them that you're going to fail a lot more than you're going to succeed in sales. I came from a sport that if you hit .300 you're a phenomenal player. But that means that you're failing seven times out of 10. I was able to transition my softball mindset and competitiveness, my desire to win, into desire to succeed in sales. The moment a sales rep or anyone can be okay with failure is the moment that they're going to break through and succeed. Having a strong mentality and my competitiveness is what's made me successful." As a Training Captain and mentor to new sales reps, it is sharing lessons learned, encouraging mentees to shake off rejection, and reminders that the sun will rise tomorrow even if you've had a difficult day or week, that Amy imparts to her Cintas mentees.
As the saying goes, hard work never goes unnoticed. Top performers in any function of an organization are often tapped for new assignments. Amy recently transitioned from the facility service rental division of Cintas where she was in a comfortable top performer spot onto a new team in the uniform division at the request of regional leaders. This means going after an entirely new client base and building up her business again from scratch. In this 'hunter' sales role Amy is challenged to bring in new business and get product into the account before passing it over to her service team for ongoing account management. Taking on this challenge was a forward-looking strategic career decision that gives Amy experience in a key business unit and more visibility for future growth opportunities.
"I'm a big believer in surrounding yourself with people (who) lift you up. I will continue to reach out to successful like minded partners. And I'm going to keep being my authentic self. I can definitely see myself at Cintas for a long time."
It is estimated that up to 50% of US college graduates are likely to work in sales at some point in their careers (HBR, 2016). At the Eberhardt School of Business we typically see 20-30% of our graduates land their first job in sales across a wide range of industries including financial services, industrial products/services, food and beverage, technology, professional services, and more. Anticipating a continuation of this trend, we asked Amy for any advice she could share with Class of 2021 graduates based on her success in building a professional sales career at Cintas.
"I would encourage new graduates to find a company that offers an entry level training program where you get exposure to different aspects of the business including sales. This allows you to dip your toes in and see where your skills fit best. And just reach out and talk to people who are in careers that look interesting and learn from them."
We love to celebrate and highlight the professional successes of our alumni and hope Amy's story sparks inspiration for you, too!
Eberhardt Career Management Center
Want to learn more?
We are always here to help.
Eberhardt Career Management Center
Eberhardt School of Business
3601 Pacific Avenue
Stockton, CA  95211
Margaret Roberts
Director
209.946.7350